4 Ways to Prep Your Guest Room for the Holidays

The holidays are upon us, which means the time for hosting family and friends is once again here. Remember, it's the details that make your holiday guest room warm and welcoming, from the bed linens to the storage space you provide. Keep your guests comfortable with these 4 ways to prep your guest room for the holidays.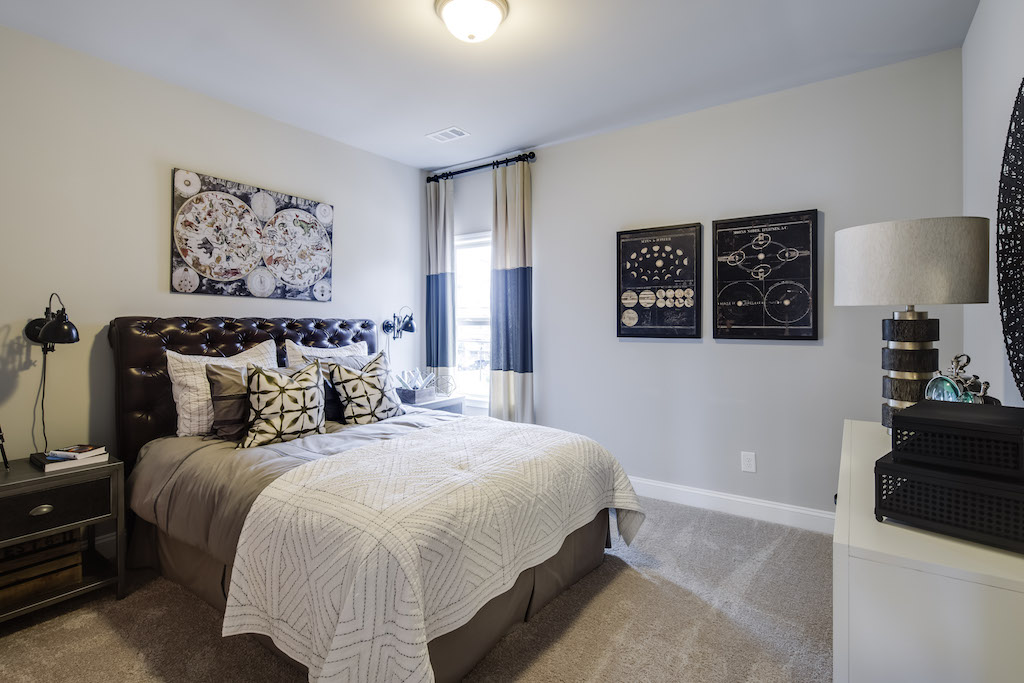 Ensure the Room has Ample Lighting
While lighting is probably not one of the first things you think of when preparing to host guests, it is an important element of your guest room. Like in the room above in Park Chase, you want to ensure the room has ample lighting for guests to enjoy time in the room during both the day and night. While you may be able to easily navigate each room of your home at night, your guests can't. You can do this by adding either nightlights or bedside lights. This will allow your guests to navigate the guest suite with ease as well as spend some downtime reading their favorite book or magazine before bed.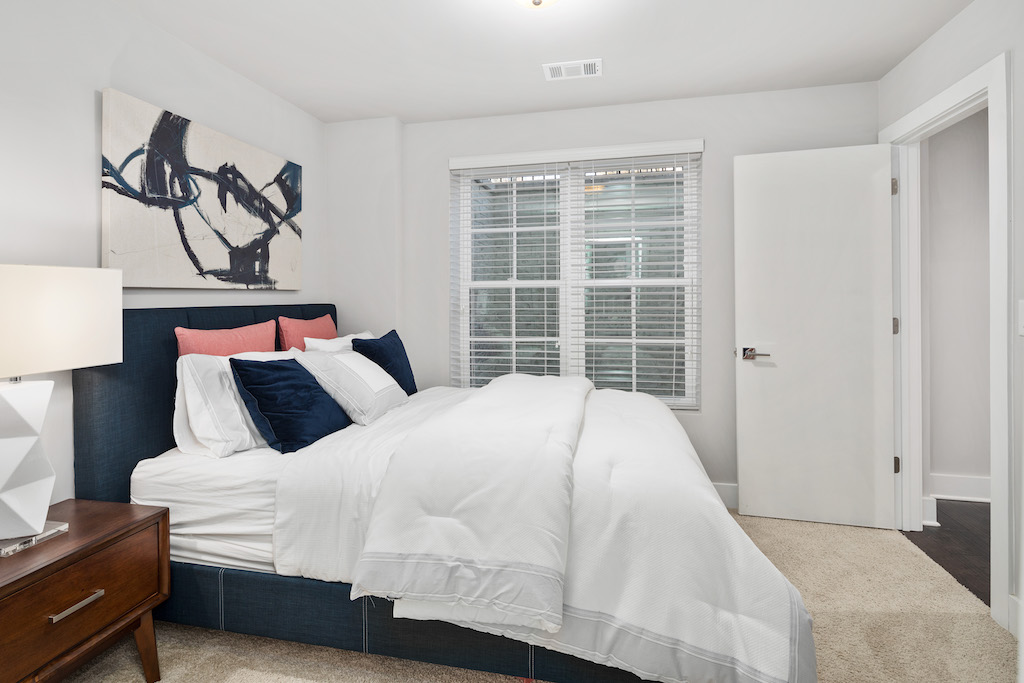 Provide Guests with Quality Towels and Linens
Another tip to get your guest room ready for the holidays is to make sure it's stocked with quality towels and linens. Think about it — it's the worst when you're traveling and can't get comfortable when you're ready to go to sleep. While you can't set the temperature to be ideal for every guest you host, you can provide them with comfortable layers for a restful night. Purchase a set of soft bed sheets, a couple throws, duvet or comforter, and several pillows. Having the added layers, like this guest room in Cosmopolitan, will help accommodate various sleeping preferences. The same is applicable for the towels in your guest bathroom. You'll want to buy a set of high-quality towels that aren't going to unravel the first time they're used.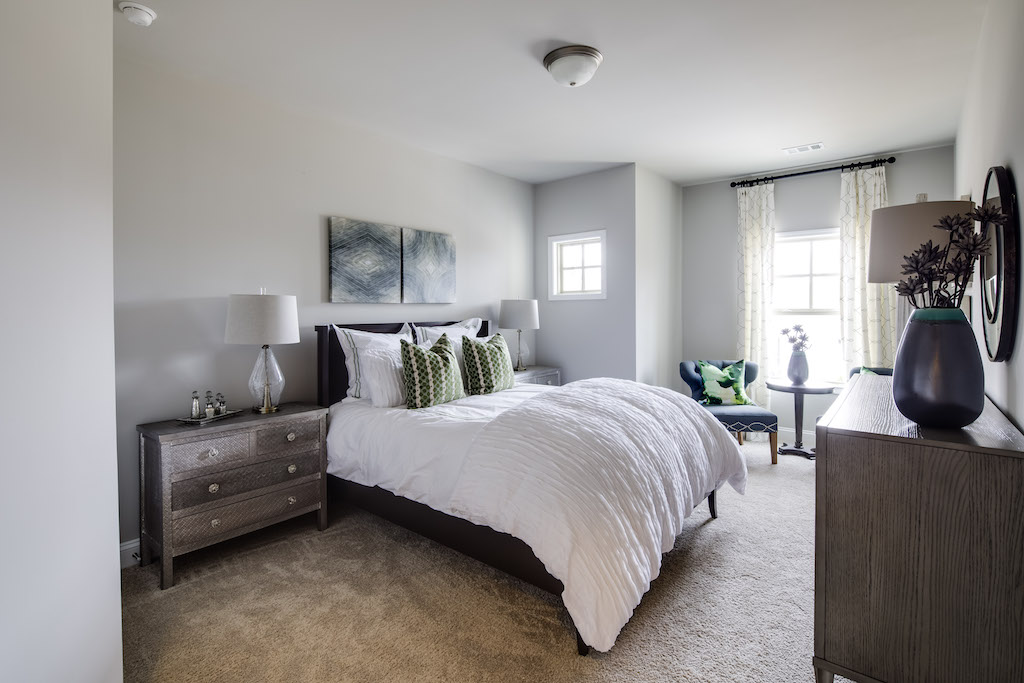 Furnish the Room with Sufficient Storage Space
We've all been there — living out of our suitcase for days because there wasn't enough room to store our wardrobe. Make your guests feel at home by furnishing the room with sufficient storage space. We understand not every room has the space for large nightstands and dressers like this one in Park Chase. If that is the case, you can look into purchasing an under bed dresser. Also, make sure you have empty space and extra hangars in the closet. Your guests will likely have clothes they want to hang.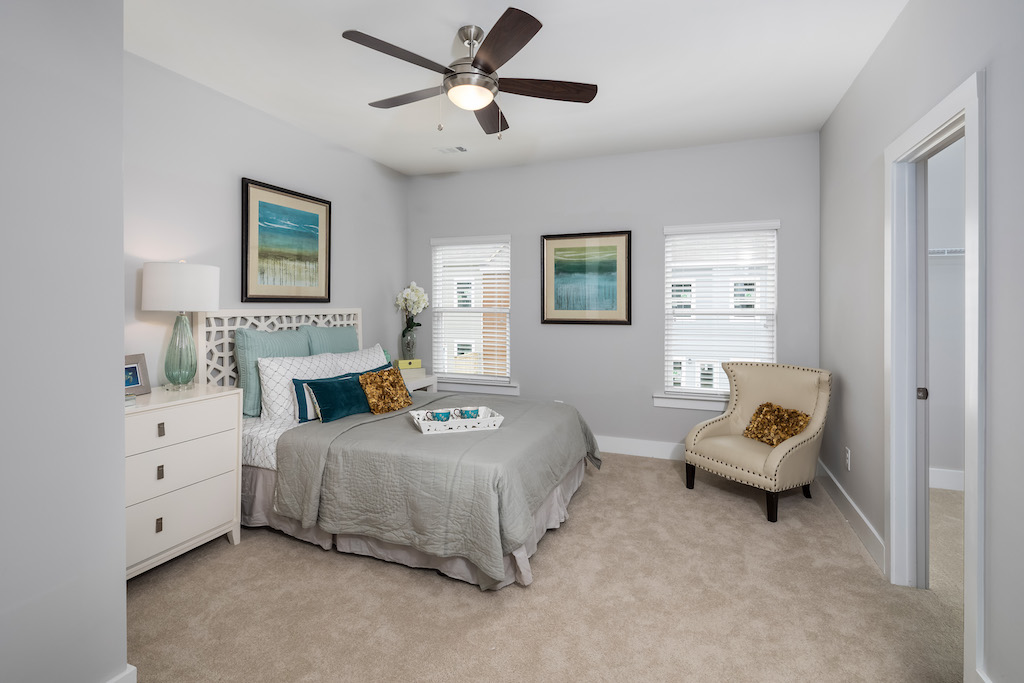 Create a Relaxing Environment
Ultimately your goal is to make your guests feel comfortable and welcome in your home. For this reason, you want to create a relaxing environment in your guest suite. Like at our guest room in Eastland Gates, the key is to declutter and furnish it with all the essentials. If space provides, try adding a cozy chair or small table and chairs for guests to have a private sitting area. For smaller guest rooms, try to open it up as much as possible by placing a small dresser in the closet. This will ensure your guests still have sufficient storage space without cluttering up the room.
Enjoy the Holidays with Guests in Your New Home
Celebrating the holidays with loved ones in your new home is one of the best parts of the holiday season. If you're looking for a new metro Atlanta home, visit us at one of our neighborhoods inside or outside of the Perimeter. With spacious single family homes and townhomes, you're sure to find a home that fits your family's needs. As you prepare for holiday visitors, we hope you find these 4 ways to prepare your guest room helpful.